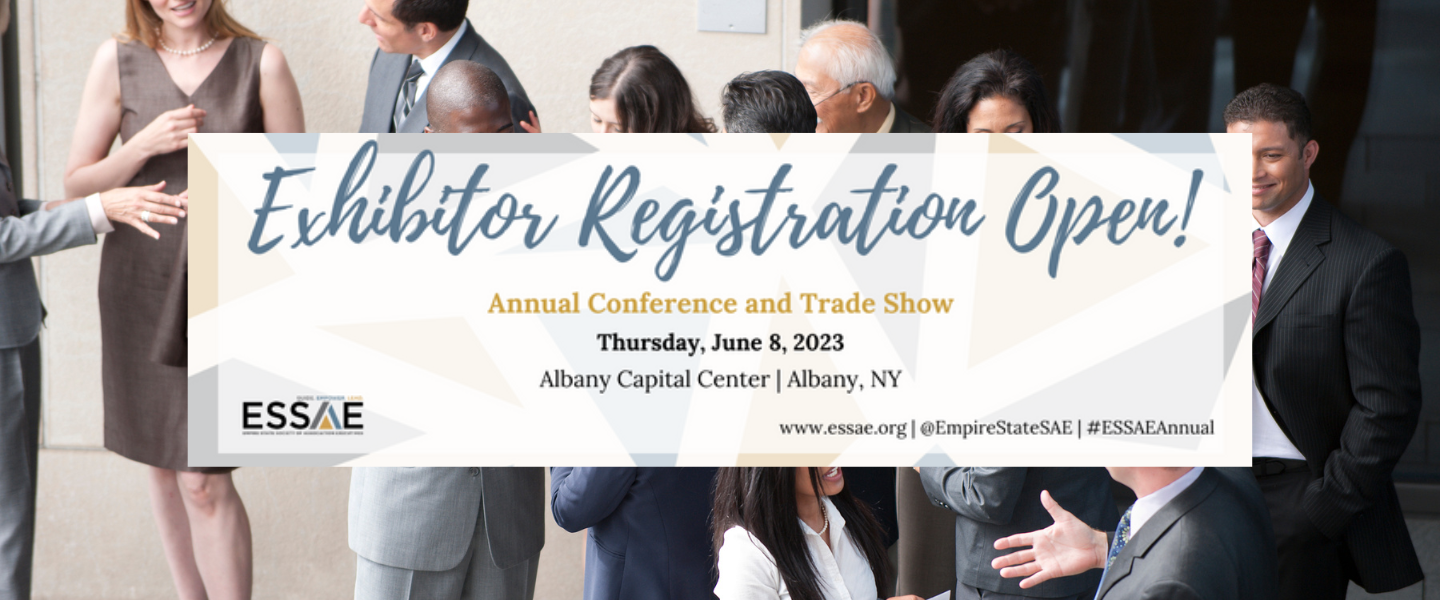 ESSAE Annual Expo
Event Details
The ESSAE Annual Conference & Trade Show is the premier association management and meeting professionals conference and trade show in upstate New York. The annual one-day conference is about professional development, networking, and showcasing products and services, and is the place to interact with key decision-makers within the association community.

This event celebrates the true partnership of our association colleagues, meeting professionals, and exhibiting partners across New York State; putting the emphasis on networking, collaboration, engagement, and education. All to grow our audience of association, non-profit, corporate executives, and their staff for in-person meetings and events - YOUR potential clients!
Additional Ticket Information
Please refer to the Exhibitor Prospectus and use the online registration system in place for real-time table availability and online payments. If you need help with your exhibitor registration and table section, please contact Gabby Fisher. The Members Access Code is available on the "members' only" section of ESSAE's website. If you are an active member and have trouble logging into your profile/members' only landing page, please contact executive@essae.org.
As exhibit space is limited to 75 tables! Again, we encourage you to use the above referenced online registration system for real-time table availability. Exhibitors will be required to submit their table preferences - assigned in the order completed registrations are received. Final table assignments will be made by ESSAE. Please find information on Hotel Accommodations here.

Should you have any questions, please contact Carrie Laney, ESSAE Executive Director at (518) 463-1755, or Adam Jacobson, ESSAE Trade Show Committee Chair at (845) 887-5017.

Interested in magnifying your presence with a sponsorship investment? Please visit our partnership page here. We look forward to seeing YOU on Thursday, June 8 in Albany, NY!